You have selected to pay for your subscription via wire transfer. Follow the steps below to complete your payment:
Click the button below to generate the wire transfer invoice, which will be sent to your user email.
This email from our team will include the invoice and instructions to pay the subscription fee via wire transfer. You must include your invoice number on your wire transfer form in the FBO section or reference section.
The assessments associated with your subscription will be automatically allocated.
You will not be permitted to post, share, or verify your assessment until payment is received. Additionally, your assessment will be deleted if payment or evidence of payment is not received 60 days after the invoice is generated.
To send evidence of payment, send an email to payment@worldly.io and include the following information in your email:

Email Subject: Payment evidence wire transfer [Insert Your Account Name Here]
Email Content:
Worldly Account Name
Worldly (Higg) Account ID
Primary Contact Email
Attach evidence of a wire transfer from your bank along with the Worldly Invoice.

Direct any questions to

payment@worldly.io

.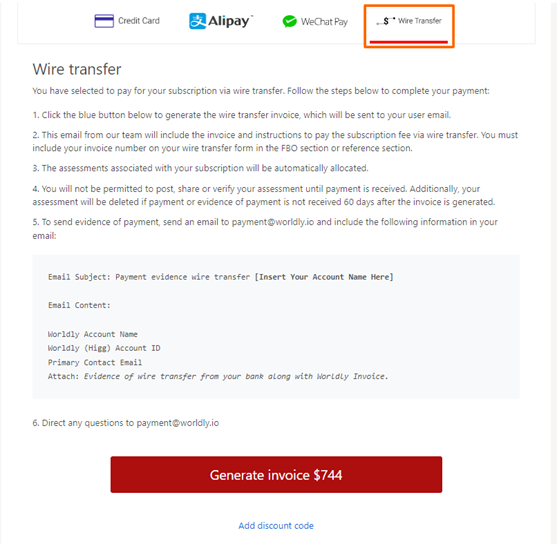 Please find our bank information below:
Wire transfer in USD to:
· Bank Name: First Republic Bank
· Address: 101 Pine Street, San Francisco, CA 94111
· ABA#: 321081669
· Acct #: 80007856984
· Swift Code: FRBBUS6S
· Receiver's Name: Worldly
Invoice Terms: PLEASE INCLUDE INVOICE NUMBER WITH YOUR WIRE PAYMENT
Help us Improve: Found an error or think something is missing? Let us know so we can enhance this article. Your feedback is valuable to us!